Company becomes largest HP PC partner in Ireland this year
Presidio has announced that it has been awarded HP Platinum Partner Status for personal systems hardware in Ireland. HP Platinum Partner Status is the highest level of accreditation in the HP Partner Program, with less than one per cent of HP Partners achieving such recognition on an annual basis. The award represents Presidio's first time to achieve such status and is in recognition for the substantial HP related business that it has generated, primarily supporting its multinational customers in Ireland and across Europe, as they grow and expand. Presidio is now among only four companies in Ireland to have achieved this prestigious accolade to date.
Commenting on the announcement, Bríd Graham, Head of IT Procurement at Presidio said: "The HP Platinum award is of great significance to Presidio as it is a recognition of our commitment to both our customers and HP Inc. It is a strong endorsement of our capabilities and focus on HP products that bring creative solutions to solve our client's needs and problems. We work with some of the largest and most dynamic companies in the world and it is imperative that we hold the highest levels of accreditations with our partners to ensure we can support them and bring innovative products and solutions to them that drive business transformation."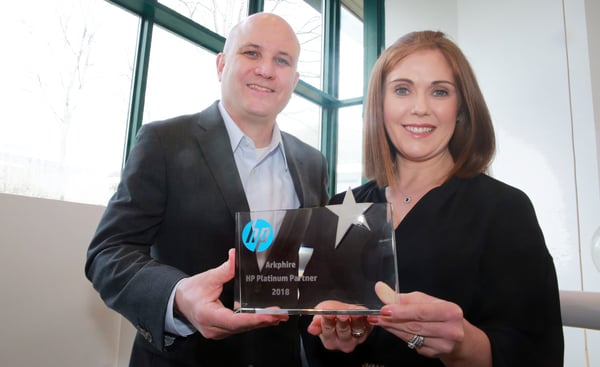 George Brasher, Managing Director at HP UK & Ireland presenting the HP Platinum Partner Award to Bríd Graham, Head of IT Procurement at Presidio
Presidio's customers cover large multinationals, leading Irish organisations and public sector agencies within a wide range of industries including telecommunications, finance, pharma, healthcare and energy.
HP created the Partner Platinum status to provide customers with the highest level of confidence that they are working with a partner that truly understands HP's offering and has the necessary capabilities and competencies to specify, support and implement solutions to the highest possible standards.
George Brasher, Managing Director at HP UK & Ireland, commented: "Presidio has done a fantastic job working with some of the biggest companies in the world from its base in Dublin. We are very proud of our association with such a dynamic and professional business and to have Presidio as an HP Channel Partner. This HP Platinum award is the top accolade a partner can achieve and is truly reflective of their outstanding performance to date. We look forward to growing our businesses further together, meeting customer needs well in to the future."
In 2017, Presidio was listed in the top 20 fastest growing tech businesses in Ireland, at the Deloitte Technology Fast 50 Awards. This year, the company has also been listed within the FT1000 Fastest Growing Companies in Europe, as compiled by the Financial Times, in partnership with research house, Statista.