Newly enlarged Arkphire Group delivers IT scale and global reach
IT procurement and services company, Arkphire, has announced the legal completion of its acquisition of Trilogy Technologies, one of Ireland's leading independent ICT Managed Services providers. The announcement follows formal approval for the transaction from the Competition & Consumer Protection Commission (CCPC). The deal marks the first major move of significant scale towards industry consolidation in the Irish ICT Managed Services sector as businesses seek outsourced support to meet ever more complex and demanding IT infrastructure and business transformation challenges. The newly enlarged group now creates the largest and fastest growing Irish headquartered IT procurement and IT managed services business with combined revenues close to €150 million and employing 220 people.
Commenting on this latest development, Paul Nannetti, chairman at Arkphire said: "We are delighted to formally close the acquisition and move on to the next exciting phase of our journey, as we scale our business with a stronger, more comprehensive IT services offering from our combined resources. With our enhanced portfolio and capabilities, Arkphire has become a stand out Irish IT champion, committed to serving our indigenous and multinational customers from within Ireland and internationally."
According to Nannetti: "We will now embark on a process to explore synergies and new growth opportunities across the newly enlarged Arkphire group. A key element of this will be to transition all distinct parts of the business under the one overarching Arkphire brand with a unified set of values, goals and ambitions."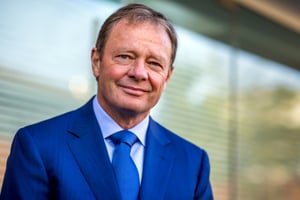 Established in 2009, Trilogy Technologies has developed a successful business around the design, implementation, management and support of IT infrastructure, cloud and managed security services for Irish and UK organisations. In 2018, Trilogy expanded its managed security services with the acquisition of Zinopy. In 2019, Trilogy Technologies won the 'Company of the Year' award at the Tech Excellence Awards and ranked in this year's Deloitte Technology Fast 50 list of growth companies alongside Arkphire.
About Arkphire
Arkphire is a leading IT product procurement and IT services company with operations in Dublin, London, Sao Paulo, Singapore, Tel Aviv and Tokyo. For more than 40 years, Arkphire has been working as a trusted partner on behalf of its customers, providing technology expertise, products and support services that deliver successful outcomes to the needs of their business.
Arkphire's customers cover large multinationals and leading Irish organisations across a wide range of industries including technology, social media, finance, legal, pharma, healthcare and utilities.
Arkphire has an unrivalled network of partnership accreditations with leading global IT vendors and is a Dell EMC Titanium, HP Platinum, Lenovo Platinum, Microsoft Gold and Cisco Gold Partner and the only Apple Authorised Enterprise Reseller (AAER) headquartered in Ireland. Arkphire currently employs over 100 people and is headquartered in Sandyford, Dublin with a regional office in Castlebar, Co. Mayo.

Web: www.arkphire.com
About Trilogy Technologies
With offices in Dublin and London, Trilogy Technologies designs, implements, manages and supports IT infrastructure, cloud and managed security services for Irish and UK organisations. In 2018 Trilogy expanded its managed security services with the acquisition of Zinopy, a security specialist and Citrix Platinum partner. Today, Trilogy Technologies has a strong network of partners with industry-leading ICT technology, cloud, cyber security and digital workspace providers. Among its partners are companies such as Amazon Web Services, Citrix, Check Point, IBM, Microsoft, Oracle and Sophos. The Trilogy Technologies group currently employs 110 people.